---
Tue 25 Jan, 2011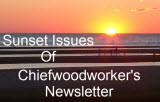 Now you can get back issues of Chiefwoodworker's Newsletter. After distribution of each issue I will archive that issue and provide a link on this
page. Each issue is archived in PDF format. By clicking on the link you will be able to download a PDF file and save it on your system. You will need
Adobe Reader to download these files. If you don't have Adobe Reader installed on you system go to http://get.adobe.com/reader/.
If you leave the McAfee Security Plus Scan check box checked, (in the upper right corner of the page) it too will be loaded on your system.
So be sure to uncheck it if you do not want this option.
On Chiefwoodworker's Blog home page you will see the picture shown above left. Click on it at any time and it will bring you to this page where
you can get caught up with back issues. The contents of each issue are listed below. Click on the date hyperlink to download.
Adobe Reader Must Be Installed For Download
Back Issues
2010
2011
2012
2013
2014
2015
2017
Leave a Reply
4 Responses to "Back Issues of Chiefwoodworker's Newsletter"